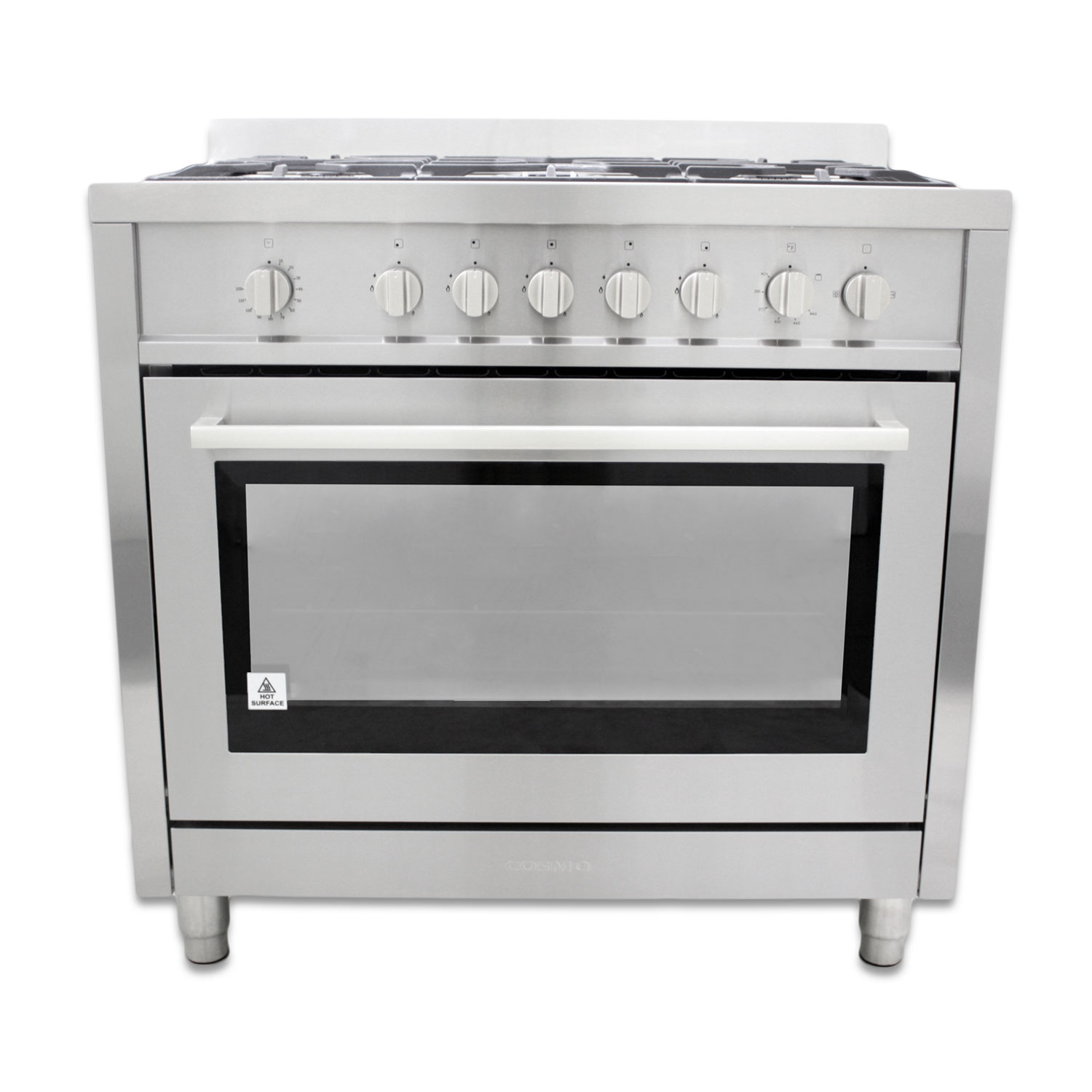  5/5
NXRSC311 Best Professional Gas Range
Check Latest Price
 5/5
Cosmo Best Stainless Steel Gas Range
Check Latest Price
 5/5
Thor 3080GMT Best Pro Style Gas Range
Best Freestanding Gas Rang 2022
Are you looking for the best freestanding gas range? Well, in today's article we will break down the top 5 best freestanding gas ranges that are available on the market.
#1. Cosmo DFR304: Best Stainless Steel Gas Range
The DFR304 comes with four sealed Italian burners, all of which include a 4200 BTU auxiliary burner, 8,500 BTU semi-rapid burner, 13000 BTU rapid burner, and a high 18000 BTU rapid burner.
For this reason, this gas range allows you to switch between high and low heat and cook your food however you want.
Furthermore, this gas range features 3.9 cubic feet.
Oven capacity and a dual-fan technology, which helps with distributing heat evenly whenever it operates.
Its design is both sturdy and easy to clean.
Built with corrosion-resistant 304-grade stainless steel, heavy-duty, cast-iron grates, and smudge fingerprint-resistant finish.
It features a dual-fan assisted circular heating element designed to distribute heat evenly around the food.
Allowing food to cook more evenly in less time and at a lower temperature than in a standard oven.
#2. Thor LRG3001U: Best Affordable Gas Range
We have another model of gas range from Thor kitchen.
The LRG3001U is a standard sized gas range which comes with five burners of different thermal energy.
The oven interior is gray covered with white flakes.
In addition, this gas range comes with a black porcelain drip pan and heavy-duty cast-iron cooking grates.
Its classic steel gray design will easily fit within your kitchen.
However, because of how classic and vintage its design is, we do not think that it is that fitting for modern or chic kitchen aesthetics.
#3. The NXRSC311: Best Professional Gas Range
We have the NXRSC311 gas range. This model is also a professional style type of gas range.
It has a modern stainless steel look and construction with a black porcelain drip pan.
However, its oven is larger than the aforementioned gas ranges so far with an oven capacity of 5.5 cubic feet.
And an extra-large window for better monitoring experience.
It comes with six burners including low power 6000 BTU German made single stack burners, 10 000 BTU broiler burner, 18 000 BTU burner, and 22 000 BTU oven burner.
Plus, it also comes with convection which helps provide even heat during cooking.
The HRG308OGMT from Thor kitchen, this gas range is a professional style type.
It comes with four burners with heavy-duty iron grates each one is 15000 BTU, 18000 BTU, 12000 BTU, and 22000 BTU.
In addition, it's also made with an automatic re-ignition safety feature to provide you more securely every time you put it to use.
Furthermore, the HRG308OGMT comes with a commercial convection fan and a standard-sized oven.
It is also built with a blue porcelain oven interior and a professional stainless steel look with zinc alloy black controller knobs and a blue led control board.
This design can add more professional points to your workspace's aesthetics.
#5. Cosmo GPR366: Standard Size Gas Range
The Cosmo GPR366 is as functional as it can get.
It comes with a standard size oven and 6 Italian sealed burners.
Two of 12500 BTU rapid burners, two of 10000 BTU semi-rapid burners, one 18000 BTU triple ring burner, and one 4500 auxiliary burners.
This gas range is constructed with corrosion-resistant 304-grade stainless steel.
Heavy-duty cast iron and fingerprint, and smudge-proof finish.
This high-quality construction design allows this gas range to evenly distribute heat, while also staying strong for long-term use.
Moreover, its steel-gray design allows it to add a dash of modernity and to seamlessly fit into your kitchen.
Conclusion
So that sums up the top 5 best freestanding gas ranges.
We hope you enjoyed this article.
If you did please leave a comment on this article and share it.