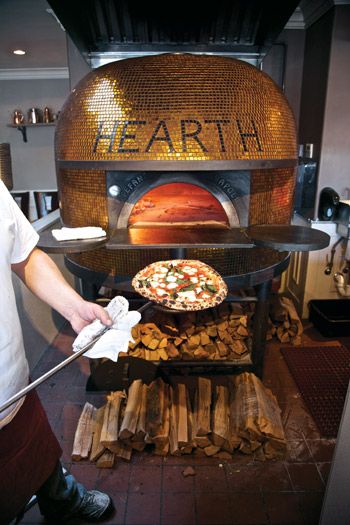 Are you looking for the best pizza ovens in your budget?
Well, in today's article we will break down the top 4 Best pizza ovens that are available on the market.
I made this list based on my personal opinion.
#1. Firepod Pizza Oven
Easy-to-use and fun to look at there is a lot to like about the firepod grill.
It's a propane-powered pizza oven and grill that delivers perfectly cooked pizza in your backyard or patio.
It's portable and easy to set up and it has the versatility to become your all-around go-to grill.
Firepod heats up to a pizza perfect 600 degrees in about 10 minutes with just the push of a button and it cooks a fresh pizza in about 4 minutes.
You can't beat its mod retro look complete with solid wood handles knobs and legs either this scaled-down grill is packed with loads of features the.
The lid is removable for easier cleaning and access to what's cooking and the front door helps keep heat in. A rear stopper keeps pizza in place and top ventilation helps prevent burning.
Firepod comes ready to party with pizza cooking essentials as well as a carrying strap that secures the lid while you're on the move and you can opt for a double-sided griddle to expand the grilling possibilities to meet veggies and more.
Maker Tim Henderson had the best pizza of his life while visiting the Italian Alps he found out the secret was cooking it at 600 degrees ℉. A temperature standard home oven can't reach. After trying out several pizza ovens Tim decided to make his own that does the job and more in a user and backyard friendly way.
#2. Biolite Basecamp Best Pizza Dome
A cooking accessory for the Bio Lite base camp that transforms your stove into a wood-fired oven.
The pizza dome comes with three key components and set up as easy.
Ensure the lever is in the closed position.
Remove the grill grate and replace with the triangle Basin stone and start up the base camp with kindling and Firestarter. Add the lid and wait for 5 to 10 minutes for your stone to heat up.
You slide on your dough and in minutes you've got wood fired pizza to feed your whole crew.
The dome can also be used separately as a way to concentrate heat while grilling plus with the base camps thermoelectric technology you've got usable electricity to light your cooktop or charge your gear.
Perfect for the beach backyard or tailgate make pizza anywhere with the BioLite pizza dome.
#3. Roccobox By Gozney Portable Outdoor Best Pizza Oven
The wood burner is a great alternative to the gas burner for a more traditional way of cooking. Here are some tips on how to use it.
it's important to use a kiln-dried hardwood with a low moisture content beach or oak is ideal if you're concerned your wood might not be dry enough you can dry out a little further in the residual heat of your conventional oven or rock box. 
The wood burner is easy to attach just like the gas burner but it can get hot so don't use it on something like a wooden table you want your wood to be cut into small marker pen size sticks. This will help us get a fire going more quickly.
Add a handful of the woods of the chamber and pop in a natural fire lighter. It's important to close the hopper every time you add more wood as this will produce the best flame and heat. The wood burner gets very hot so be sure to open the hopper with the tool provided.
Add wood to the chamber regular intervals pushing charred kindling down into the bottom of the chamber each time you add more.
Now you know how to operate the wood burner you can confidently choose between the convenience of gas or the traditional feel of wood happy pizza making.
#4. Ooni Koda Outdoor Best Pizza Oven
Ooni Koda has been crafted for ultimate speed convenience and ease of use. While it's very simple to use. It has all of the features you need to make incredible pizza in just 60 seconds.
When you eat pizza at your favorite restaurant. It will have a certain look and taste that's impossible to recreate in a regular kitchen oven. 
That is because the most important factor for cooking truly great pizza is to use an oven that gets super-hot and has a stone floor unique odor has these plus the ease of cooking of a gas flame so you can bring your pizza game to any outdoor party.
Ooni Koda connects to a propane gas tank the same way as a barbecue and it will come with the hose and regulator in the box.
There's also a match stick holder. Ooni Koda is ready right out of the box and takes seconds to set up. Inside the box, you'll find the pizza oven itself the stone baking board, and the gas regulator and hose. You'll receive a printed copy of the essentials guide which includes delicious recipes for authentic pizza and more.
To get Ooni Koda setup just flip open the legs, insert the stone baking board, and connect to a gas tank and you're good to go to light push in and slowly turn the control knob anti-clockwise until you hear a click and the flames ignite.
Keep it pressed in for 5 seconds then turn the dial to control the flames.
It's as simple as that Ooni Koda reaches 930℉ that's 500℃.
Which is twice the maximum temperature of a conventional oven? That's hot enough to cook a 13-inch pizza in only 60 seconds. One of my favorite things about Ooni Koda is just how fast it is.
It only takes 15 minutes to preheat to pizza cooking temperatures. During the preheat time the flames will roll across the oven ceiling and heat up the stone baking board.
The stone has excellent heat retention and will help to cook your pizza base to perfection by drawing out excess moisture from your dome.
When you're ready launch your pizza onto the stone. You'll be able to watch your toppings bubble under the fly while it cooks. You can turn the flames up for cooking pizza in just 60 seconds and you also have the option to dial it down to roast meat fish and vegetables.
Anything you can fit inside Ooni Koda will cook amazingly well. Setting up is quick and easy and so is cleaning up.
Cooking with gas means there's no mess to worry about and any residue from cooking and gets baked off with the heat inside the oven.
Ooni Koda is covered by a one-year warranty as standard which you can extend for another year for free or registering online. So, what makes Ooni Koda work.
So, well we'll start by looking at the oven body itself which is made from a powder-coated cold-rolled carbon steel shell. There is a thick layer of insulation inside which helps to retain the heat, while the outer shell is weather resistant you can also order the Ooni Koda carry cover to keep your oven protected from the elements.
There's a patented flame keeper that carries rolling flames across the food as it cooks and creates an even temperature across the stone for a well-cooked pizza base.
The high-quality cordierite stone baking board retains a lot of heat and gives pizzas that authentic stone-baked base is completely removable too. The best surfaces to place Ooni Koda on top of our wooden picnic tables stone marble or stainless steel.
As you can see Ooni Koda has non-slip feet that protect whatever surface you replace meat on and the legs fold up easily so that you can take it with you for a pizza party on the go or store it away.
When you order an Ooni Koda you'll also be helping to plant trees through Ooni's partnership with Eden projects and 1% for the planet.
Conclusion
So that sums up the top 4 Best pizza ovens.
We hope you enjoyed this article.
If you did please leave a comment on this article and share it.