Standing for long periods of time at home or the workplace can cause lower back pain or lead to feet and legs feeling fatigued.
Although wearing quality shoes can certainly help to reduce the pain having additional protection from an anti-fatigue mat is a good bet both for the short term and the long term.
They help reduce the pain and suffering caused by standing on your feet for long periods of time. It also helps you improve productivity at a personal and professional level.
But what constitutes a good standing mat? Well this is a question many people are facing and have the same ordeal making a decision.
Luckily, we've compiled a list the Top 5 best anti fatigue mats for kitchen on the market, to help narrow down your choices.
#1. Clever Production Anti Fatigue Standing Desk Mat
The anti-fatigue standing desk mat from clever productions, featuring durable construction this is easily one of the most versatile body support products on the market.
It can be used in a kitchen, bathroom or office as well as serve as an excellent gift idea.
Unlike other small gel and rubber standing mats the anti-fatigue standing desk mat measures in at 26 x 24.5 x 3 inches, giving your legs plenty of space to move around.
It also comes with a patented 3-inch foam which combines the perfect blend of softness and support for standing all day.
The thick foam also helps reduce pressure on your lower back feet and knees as well as enhanced blood circulation.
The whole point of using an anti-fatigue mat is comfort and this is one area that the anti-fatigue standing desk mat from clever productions scores big.
It comes with a healthy ergonomic design and a built-in footrest to stimulate blood circulation reduce fatigue and allow you to enjoy up to 20 different foot resting positions.
Moreover, the slightly elevated bevelled edges and non-slip bottom prevent any accidental tripping.
Along with the ergonomic design the clever anti-fatigue desk mat is also durable.
It won't curl or wear down after months of use and it's super easy to clean.
If you're looking for a durable anti-fatigue mat that's pleasant to stand on then the anti-fatigue desk mat from clever productions is a great choice.
It's durable, highly effective and affordable and with a darker colour you can rest assured it'll fit your office, kitchen or bathroom theme.
#2. New Life By GelPro Anti Fatigue Mat
This top-rated anti-fatigue mat is the perfect standing companion when prepping ingredients or looking to boost your productivity in the office.
Under the hood you'll find the premium 5/8-inch energy return foam that helps provide more support for your foot muscles and Knees.
Better yet the non-slip bottom helps to keep it in place as well as make it compatible with any flooring type from hardwood, marble or tile.
Thanks to the durable strong materials the new life grass cloth charcoal comfort mat can be used in high-traffic areas like living rooms, kitchens or offices without curling.
In case of any accidental spills the mat comes with a water-resistant finish meaning it won't get ruined.
You can clean it with a vacuum or wipe it down with a damp cloth.
If you're looking for an easy comfortable standing mat that helps boost your productivity the new life grass comfort mat is a solid choice.
It supports multiple body postures keeping you energized and moving all day.
And measuring 18 x 30 inches, it means you can easily slide the mat in and out under tight spaces.
#3. Mainstays Comfort Mate D Kitchen Mat
The mainstays 18 x 30-inch comfort D mat.
This mat combines style with functionality making sure to add to your kitchen, living room or bathroom.
One of the popping features that will surely impress you is the abrasive puncture resistant exterior.
It extends the mats lifespan without compromising comfort which the tread helps stimulate your feet.
The other thing you'll love about this highly rated anti-fatigue mat is the 0.35-inch thick high-quality foam.
It helps reduce stress and fatigue on your feet as well as provide enough cushioning regardless of your posture.
Your safety is also guaranteed thanks to the bevelled edges reinforce no curl edges and non-slip bottom, which prevents tripping.
As an added bonus the comfort d mat also has antimicrobial properties that will help keep it clean regardless of what comes across it.
And who said that your anti-fatigue mat only has to come in a one single boring color the comfort d mat comes in a variety of colors like teal, red, grey, brown and black, allowing you to choose the one that perfectly fits your decoration needs and still gives you that much-needed comfort.
If you're looking for an anti-fatigue mat capable of withstanding a lot of traffic the comfort d-max will serve you well.
This premium product comes in multiple colors and high-quality memory foam will maintain its structural integrity no matter how many times you use it.
#4. Imprint CumulusPro Standing Mat
This premium mat comes with a unibody polyurethane construction that has a distinct textured surface.
That'll immediately give you a deeper more supportive feel.
The texture provides extra grip making an ideal for sweaty feet.
Just like most of the mats in this article the imprint cumulus pro comes with bevelled edges to help reduce accidental tripping while standing.
Additionally, the anti-slip bottom also means that it doesn't shift beneath your feet.
Saving you the trouble of constantly trying to reposition it.
The cumulus pro professional mat is also one of the thicker mats currently available.
Measuring in at 3/4 of an inch in thickness, it can accommodate more foot traffic without losing its firmness or springiness.
The 24-inch width works and looks great in both small or large spaces making the mat well worth the cost.
If you stand for fairly long hours during the day or are simply looking for an anti-fatigue mat with a wider area, we recommend the imprint cumulus Pro professional standing desk mat.
It's constructed with solid polyurethane unibody construction which can effectively alleviate pressure on both your feet and muscles.
Thanks to the high-density core you get to enjoy maximum support for longer periods.
#5. Topcobe Anti Fatigue Floor Mat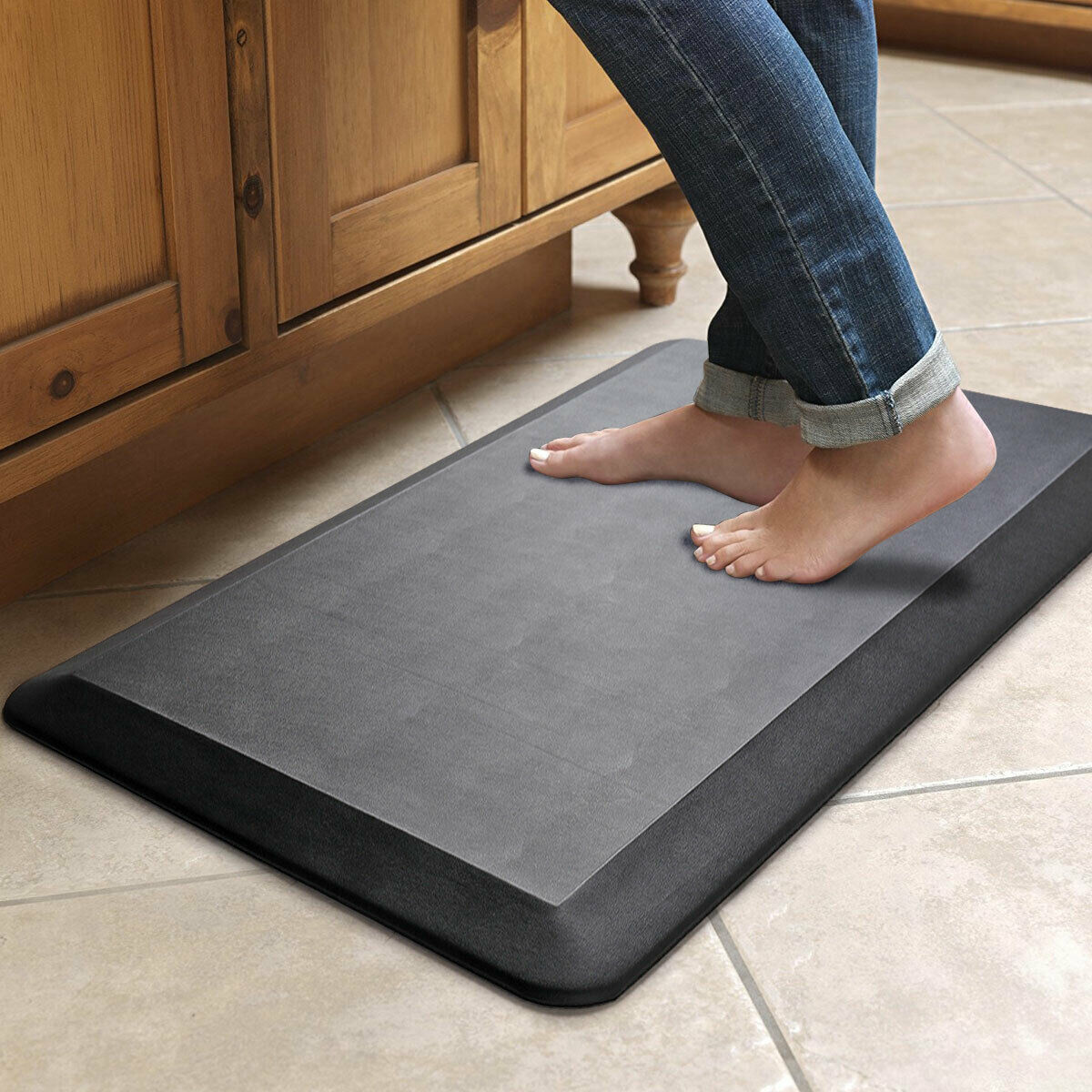 If you've got battered floor space and your feet or muscles prove it, the topcobe anti-fatigue mat is a welcome relief.
The point 0.78-inch thickness provides plenty of cushioning and support as well as eliminates pressure when you're standing for long periods.
Additionally, the high-grade foam is made from premium materials capable of withstanding high foot traffic and holds up over extended periods of time.
Once you buy a standing mat folding edges are the last thing you want to deal with.
To eliminate this aggravation the topcobe mat is engineered with a bevelled edge meaning that the edges won't Bend.
Moreover, the manufacturer ships each mat flat so it'll reach you in great condition.
Spills are also common occurrences in day-to-day activity and the mat is made with waterproof and non-toxic materials, not only making it easy to clean but safe for your health.
If you're looking for a stylish and professionally engineered anti-fatigue mat the topcobe anti-fatigue floor mat precisely fits the bill.
It not only wins points for style but the bevelled edges and extra thick padding making a pragmatic choice.
Conclusion
So that sums up the top 5 best anti fatigue mats for kitchen.
We hope you enjoyed with this article.
If you did please leave a comment on this article and share.